The Coming King Foundation is now holding scheduled events at The Coming King Sculpture Prayer Garden in Kerrville, TX. Most of these activities are open and free to the public. These events, which are held near "The Empty Cross" at the top of the 1930′ hill include tours, speakers, music, prayer, teaching activities and private memorials. Christian churches and ministries are invited to use this wonderful resource in our community.
Over $3,000,000 worth of Christ-honoring monumental sculptures have already been donated to the Garden by three internationally collected artists. This beautiful, "free to the public" Garden is being built on faith in God without debt or professional fundraisers. 
There are two categories of functions held at the 23 acre Christian Garden: "Sanctioned" and "Sponsored".
"Sponsored Events" are planned and hosted by The Coming King Foundation.
"Sanctioned Events" are allowed by TCKF but are planned and hosted by others.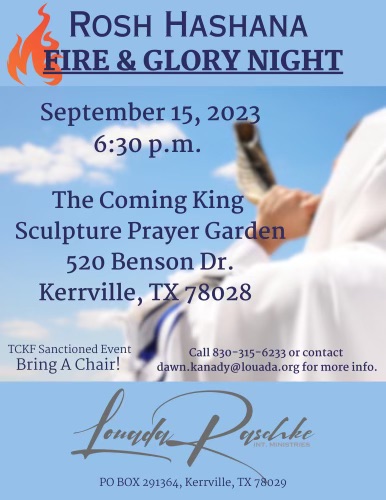 Fire and Glory Event Rosh Hashana 6:30 pm September 15, 2023 Bring a Chair Contact 830-315-6233 or contact Louada Raschke Ministries
Read More »
If you, your group or your organization would like to schedule a tour or function at the Garden, please contact the TCKF office.
Non-religious, secular groups, clubs and schools are welcome to use and tour the Garden, which is open 7 days a week, from 7:00 AM until Midnight.
Finally, the Kerrville Police Department and the Kerr County Sheriff's Office patrol the Garden at our request. Be aware that security cameras have also been placed around the Garden. Please report any suspicious activities to TCKF or the police. Thank you for your prayers and support. We hope you enjoy your visit to The Coming King Sculpture Garden!