The Coming King Foundation (TCKF) was formed on April 6, 2004 as an independent 501c3, non-profit, Art Museum. It's mission is to bless, inspire and educate the public through the exhibition of monumental spiritual art and Biblical scriptures. Free TCKF "Covenant Certified" art gardens are being established across the USA and world. This compressive website features the miraculous story of how The Coming King Sculpture Prayer Garden in Kerrville, Texas became one of the top tourist attractions in the world.
"God told us in a public prophetic word given by a stranger on December 9, 2001 in Austin, Texas, that the LORD was calling us, with the help of many Christians, to be involved in 'RESTORING THE TABERNACLE OF DAVID.'  Eight months later, in August of 2002, the Holy Spirit downloaded the precise design for a "TYPE" of last days tabernacle, a SCULPTURE PRAYER GARDEN, that would be placed along the highways and byways of the world.
In this holy vision, I saw a 100-yard long, cross-shaped garden filled with my monumental, Christ-honoring sculptures and Bible scriptures carved into stone.  At the end of the path, I saw a 77'7" hollow, reddish brown, Cor-ten steel sculpture called "THE EMPTY CROSS".
The only purpose of THE COMING KING FOUNDATION is to build these SCULPTURE PRAYER GARDENS across the world to bring glory and souls to JESUS CHRIST.  These 'Covenant Certified' gardens are to be built according to the original design given by God.  This is about Jesus Christ and Him magnified. No other religions will be presented in these free art parks.
The Holy Spirit has anointed this plan and will work miracles, signs and wonders at these 'Covenant Certified' gardens!  The job of TCKF Trustees, staff and volunteers is to stay true to this unique evangelistic vision until Christ returns in the sky as THE COMING KING!"  
Sherry and I want to personally invite you, your family and friends to visit this free 24.5-acre Sculpture Prayer Garden located at the main entrance of Kerrville, Texas, right on IH-10, halfway between the Atlantic and Pacific Oceans, at the same latitude as Israel!  Over 120,000 people a year visit this unique spiritual garden from all 50 states and more than 80 countries. This park has now touched millions of people around the world thanks to TV, radio, newspapers, magazines and the internet. 
The 1,930' high garden was officially dedicated on September 13, 2015, but improvements are still being added as funds are given to this 501c3 "art museum". This spiritual park is being built on faith in God without borrowing by generous donors! Thank you for helping us if the Holy Spirit leads you to do so!
In addition to almost $3,000,000 worth of donated monumental Christ-honoring sculptures, the peace, miracles and presence of God are manifesting here 365 days a year! We pray you will visit soon and that you are blessed by this website. Please share it with others so they might be blessed by the love of God!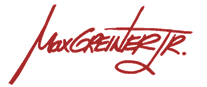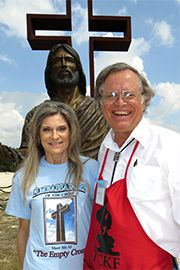 Frequently Asked Questions
Dozens of dramatic miracles have occurred following Words of Knowledge, Words of Wisdom and the Gift of Prophecy (1 Cor 12). Literally, after the land was claimed (Matt 16:9) for God's glory and purposes, snakes left the property (Luke 10:19), and white dove descended (Mt 3:16) and an unexplainable white cloud of glory (Ex 13:21) was seen in the Garden by numerous living witnesses.
But perhaps the most dramatic of all was the revelation on July 20th 2010 of what had been foretold artistically 54 years earlier. In 1956 Kerr County celebrated it's Centennial Anniversary. To honor that milestone a decorative plate was commissioned. Pictures of that decorative plate produced in 1956 depicting the Kerrville city scenic skyline are below. Look closely at the center of the plate. It reveals a stunning prophetic declaration of what has now been fulfilled in The Cross at Kerrville.
The Visible Glory of God (Ex. 34:29, Isa. 60:1, Acts 7:54-55, Mk 9:2) has appeared out of thin air on literally thousands of people who have visited the  "The Coming King® Sculpture Prayer Garden" in Kerrville. Since 2005, the "Glory Dust" has formed on the skin, clothes, and Bibles of thousands of Garden visitors. The strange particles have also been witnessed around the cross as a swirling Glory Cloud (1 Kings 8:10).
This "last days" amazing phenomenon is happening all over the world, to Christians of all denominations. Many Christians have observed the sparkling substance on themselves, or nearby, thinking somehow they accidentally encountered glitter. Many other Christians are totally unaware that the substance is on them, until curious observers point it out. The sparkles also form on non-believers, as a means to introduce them to the Gospel of Jesus Christ.