"The Coming King"®
Sculpture Prayer Garden
(General Information & Artwork)
(Views of 77′ 7" cross & four interior plaques)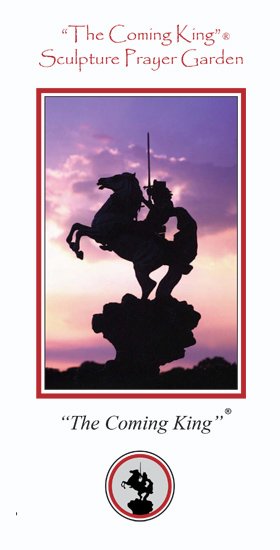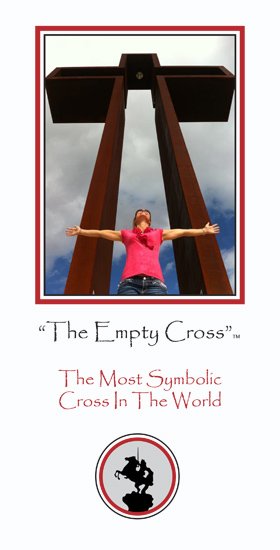 Thanks to you the Kingdom of God is advancing in Kerrville, Texas at THE COMING KING SCULPTURE PRAYER GARDEN! Your prayers, gifts and work have allowed TCKF to improve the garden for our guests who are coming from all 50 states and over 80 countries!  They are visiting to see the art and landscaping, but also to experience the overwhelming presence of God at the 24.5-acre art garden. 
By the sovereignty of God, the "Hill Country Garden Tabernacle" is located at the main entrance of Kerrville, right on IH-10, halfway between the Atlantic and Pacific Oceans, at the same latitude as Israel! Hundreds of thousands of people are visiting the spiritual art garden via motorcycles, cars, vans and buses! Some guests stay for several hours in the garden while one out of state visitor stayed over 42 days! 
Thousands of people are being Saved, Baptized, healed and delivered at the free, non-denominational Christian garden. To our knowledge, 29 people have canceled their plans for suicide after visiting the garden. TCKF Executive Director, Debbye Meszaros estimates that as many as 40 families have reported moving to Kerrville because "The Empty Cross" in on the hill!
According to the Texas Department of Highways (TXDOT) approximately 11,095,270 vehicles pass within sight of "The Empty Cross" 77'-7" tall contemporary sculpture each year. Assuming an average 2.6 passengers per vehicle that means that approximately 28,847,702 people a year see the Texas landmark for IH-10 and Hwy 16!
Kerrville's art garden is constantly featured in the media, on TV, radio, newspapers, magazines, and on social media.  Stories have already appeared on ABC, NBC, CBS, FOX, TIME WARNER, UNIVISION, and virtually all of the international Christian TV networks. The spiritual garden park is consistently rated #1 or #2 on the top tourism website, TRIP ADVISOR listed on "Things To Do" in Kerrville. The garden outperforms its next closest rival by 139 comments and is rated "EXCELLENT" by 82% of visitors!