The Construction of The Empty Cross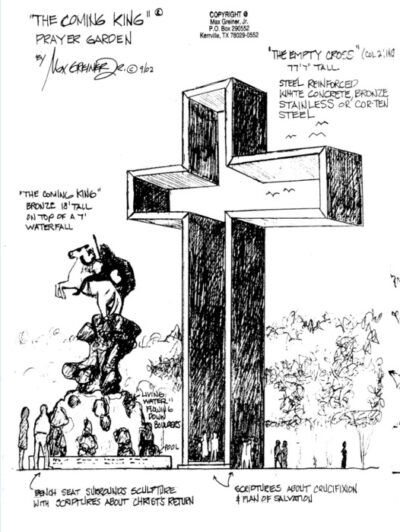 During prayer In August of 2002, the Holy Spirit gave artist/evangelist, Max Greiner, Jr., a "vision" of a 300' cross-shaped garden, filled with the Gospel on tiles, four monumental Christian sculptures, and a massive, 77'7" hollow cross.  After more prayer, numerous drawings and scale models, "The Empty Cross" was constructed by Eagle Bronze of Lander, WY.  The lengthy fabrication process began in August of 2007.
On 10/30/09, the giant cross was secretly delivered to the 23 acre Sculpture Prayer Garden in Kerrville, TX, due to threats from atheists and others opposed to the magnificent cross being erected.  Greiner and Monte Paddleford, owner of Eagle Bronze, made the 1,155 mile journey in five days using seven vehicles.  The giant cross was transported in four sections and "passed through on dry ground", between two major storm systems.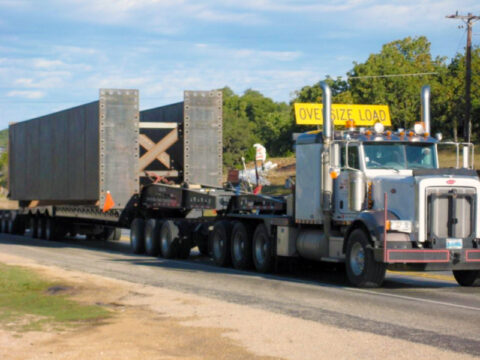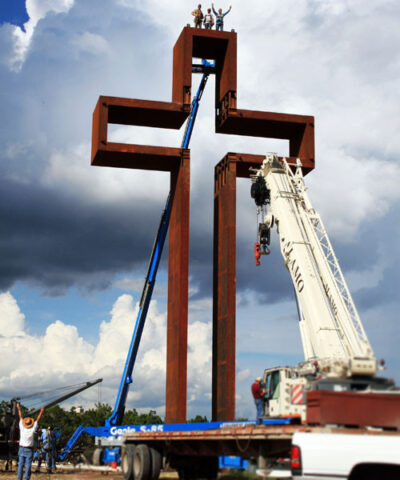 The 70 ton, seven story massive Cor-tin steel cross sculpture was eventually raised on 7/27/10, thanks to the donations of the artist, the foundry, a dozen contractors and Christians across America.  The raising of the cross was detailed due to a lawsuit filed by those opposed to the cross ever being erected on the foundation's private land.  The generous donations made it possible to raise the cross for millions to see over IH-10!
On 7/31/10, Sherry Greiner, the wife of the artist, was lifted up to the center of the hollow cross and blew the Shofar trumpet, signaling victory over Satan and the opponents of the symbolic cross.  The enemies of the cross had conspired since 2005.  They used intentional misinformation, false news releases to the media, an IRS audit, pornography, false accusations to City officials and ultimately a 15 month frivolous lawsuit to stop the project.